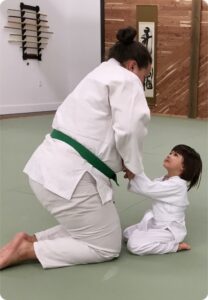 OUR PHILOSOPHY
Aikijuku Dojo's primary philosophy for teaching Aikido to children is to develop each child's own natural sense of self-worth through diligent training and discipline. We work to develop children levels of confidence, respect, awareness, their ability to interact with others though practice, patience and perseverance.
THE BENEFITS OF RESPECT + ETIQUETTE
Aikijuku Dojo highly emphasizes etiquette and discipline in a traditional dojo environment in hopes of integrating these skills into their everyday life for years to come. The benefits of entering aikido at an early age is to develop a calmer, more focused child which in turn promotes a better home life, better choice in peers, better school interaction and better grades. With the right instruction, children are able to overcome physical and emotional difficulties and begin to learn that the path of the warrior is actually the path of peace. Aikido affords children the confidence and integrity needed to avoid conflict and resolve differences peacefully in a manner that will evolve into something far more important and necessary as they mature.
WHAT TO EXPECT
Aikido is not a competitive sport. In fact, Aikido has no forms of contests or tournaments. O'Sensei believed that such things only fuel egotism, self-concern and disregard for others, and is a great temptation that lures people into combative sports, misrepresenting the true training of Budo.
Our Kawaii Kids classes are from ages 3- 5 years old. You may join at any time of which new students are given individual attention initially while all others train at their own level. The children advance in ranks utilizing the colored belt system. Although this is not the case for the adult classes, we feel that the children have a need for motivation and gratification to a certain extent, and the colored belt system proves it service by doing so.
Children are naturally active and full of energy. Our responsibility is to provide traditional instruction to all of our students to develop all aspects of their character. Building confidence, focus skills, camaraderie, self-worth and coordination are invaluable tools that will give your child the advantage in life.